Correlation Between Knowledge and Attitude to Oral Hygiene Management Behavior on Nasopharyngeal Cancer Patients Undergoing Radiation Therapy
Keywords:
Knowledge; Attitude; Oral hygiene; Nasopharyngeal Cancer; Radiation
Abstract
Aims: In nasopharyngeal cancer, radiotherapy is known as the treatment of choice by utilizing ionized radiation to eradicate all cancer cells in the nasopharynx and their metastases in the lymph nodes. This study aimed to determine the correlation between knowledge and attitude on oral hygiene management behavior among nasopharyngeal cancer patients undergoing radiation therapy in Jakarta.
Methods: A descriptive correlative with a cross-sectional. Using total sampling on 45 respondents at Radiotherapy Installation at Dharmais Cancer Hospital. The measurement using questionnaire to determine the correlation between knowledge and attitudes to oral hygiene management behavior on nasopharyngeal cancer patients. Fisher Exact Test was used for univariate and bivariate analysis. 
Results: Up to 68.9% respondents had a good level of knowledge, while 77.8% respondents had a positive attitude and also had good behavior on oral hygiene management. Fisher Exact Test showed a correlation between knowledge on oral hygiene management behavior n nasopharyngeal cancer patients with radiation with a p–value = 0.002. The results also show a significant correlation between attitudes on oral hygiene management behavior in nasopharyngeal cancer patients with radiation with a p–value = 0.000.
Conclusion: Patients with good knowledge and positive attitudes have good oral hygiene behavior, whereas patients with poor knowledge and negative attitudes will behave with poor oral hygiene management. Increase the knowledge, attitudes, and behavior of oral hygiene management of NPC patients who will undergo radiation through the provision of continuing education from the beginning to the end of radiation. Provide educational media so that patients achieve a better understanding.
References
Chen Y-P, Chan A T C, Le Q-T, Blanchard P, Ying Sun Y MJ. Nasopharyngeal Carcinoma. Lancet [Internet]. 2019;394(10192):64–80. Available from: https://doi.org/10. 1016/S0140-6736(19)30956-0
Bray F, Ferlay J, Soerjomataram I, Siegel R L, Torre L A JA. Global cancer statistics 2018: GLOBOCAN estimates of incidence and mortality worldwide for 36 cancers in 185 countries. CA Cancer J Clin. 2018;68(6):394–424.
Kementerian Kesehatan Republik Indonesia. Pedoman Nasional Pelayanan Kanker Nasofaring. Jakarta: Kementerian Kesehatan Republik Indonesia; 2019.
Susworo R KH. Radioterapi: Dasar–Dasar Radioterapi Tatalaksana Radioterapi Penyakit Kanker. II. Jakarta: UI Press; 2017.
National Cancer Institute. Radiation Therapy and You. Support for People with Cancer. United State of America: National Institutes of Health Publication; 2016.
Sourati A, Ameri A MM. Acute Side Effects of Radiation Therapy. Springer Cham; 2017.
Beech N, Robinson S, Porceddu S BM. Dental management of. Aust Dent J. 2014;59(1):20–8.
Hovan A, Carlisle S, Nguyen C YD. ORAL CARE OF THE CANCER PATIENT. Vancouver: BC Cancer; 2018.
Wulandari NNF, Handoko S A KDPY. Determinan perilaku perawatan kesehatan gigi dan mulut pada anak usia 12 tahun di wilayah kerja Puskesmas I Baturiti. Intisari Sains Medis. 2018;9(3):55–8.
Rosita I WS. GAMBARAN TINGKAT PENGETAHUAN TENTANG RADIOTERAPI PADA PASIEN KANKER NASOFARING DI RSUD DR MOEWARDI SURAKARTA. J Jur Keperawatan. 2017;
Rahayu, Widiati C., Widyanti S N. Hubungan antara Pengetahuan, Sikap, dan Perilaku terhadap Pemeliharaan Kebersihan Gigi dan Mulut dengan Status Kesehatan Periodontal Pra Lansia di Posbindu Kecamatan Indihiang Kota Tasikmalaya. Maj Kedokt Gigi Indones. 2016;21(1):27.
Sodri A J, Adhani R HI. HUBUNGAN PENGETAHUAN, SIKAP DAN TINDAKAN KESEHATAN GIGI DAN MULUT DENGAN STATUS KEBERSIHAN RONGGA MULUT PEROKOK. DENTIN J Kedokt GIGI. 2018;II(1).
Sugiyono. Metode Penelitian Pendidikan Pendekatan Kuantitatif, Kualitatif, dan R&D. Bandung: Alfabeta; 2017.
Budiman; Agus R. Kapita Selekta Kuesioner Pengetahuan dan Sikap dalam Penelitian Kesehatan. Jakarta: Salemba Medika; 2013.
Sunaryo. Psikologi untuk Keperawatan Edisi 2. Jakarta: EGC; 2013.
S. A. Sikap Manusia Teori dan Pengukurannya. Jakarta: Pustaka Pelajar; 2011.
S. N. Ilmu Perilaku Kesehatan. Jakarta: Rineka Cipta; 2014.
Wawan, A, Dewi M. Teori dan Pengukuran Pengetahuan, Sikap, dan Perilaku Manusia. Yogyakarta: Nuha Medika; 2011.
Anwar M, Green J NP. Health-seeking Behaviour in Pakistan: A Narrative Review of the Existing Literature. Public Health. 2012;126(6):507–17.
Budiharto. Pengantar Ilmu Perilaku Kesehatan dan Pendidikan Kesehatan Gigi. JAKARTA SELATAN: EGC; 2010. 17–21 p.
Kyei, Vormawor K A, Opoku R, Vanderpuye S Y V. World Journal of Epidemiology and Cancer Prevention Knowledge, Attitudes and Perceptions of Head and Neck Radiotherapy in Ghana. 2015;
Friemel, Foraita J, Günther R, Heibeck K, Günther M, Pflueger F, Pohlabeln M, Behrens H, Bullerdiek T, Nimzyk J, Ahrens R W. Pretreatment oral hygiene habits and survival of head and neck squamous cell carcinoma (HNSCC) patients. BMC Oral Health [Internet]. 2016;16(1):1–9. Available from: http://dx.doi.org/10.1186/s12903-016-0185-0
Liu, Chang Z ET, Liu, Cai Q, Zhang Y, Chen Z, Xie G, Cao S H, Shao S M, Jia J Y, Zheng W H, Liao Y, Chen J, Ernberg Y, Vaughan I, Adami T L, Huang H O, Zeng G, Zeng Y, Ye Y X W. Oral hygiene and Risk of Nasopharyngeal Carcinoma - A Population-based Case-control Study in China. Cancer Epidemiol Biomarkers Prev. 2017;25(8):1201–7.
N. M. The supportive Oral measures preceding radiation therapy in patients diagnosed with nasopharyngeal carcinoma. In: 8th International Conference and Exhibition on Dentistry & Oral Care. Oral Health Dent Management; 2016. p. 24522.
Zhang, Liu J, Liang H, Zhang X, Wang M, Peng R, Li G J. Investigation of salivary function and oral microbiota of radiation caries-free people with nasopharyngeal carcinoma. PLoS One. 2015;10(4):1–15.
Traktama, Sufiawati D O I. Oral mucositis severity in patient with head and neck cancer undergoing chemotherapy and/or radiotherapy. Maj Kedokt Gigi Indones. 2018;4(1):52.
Tricia F, Rahaju P SR. Hubungan status nutrisi penderita karsinoma nasofaring stadium lanjut dengan kejadian mukositis sesudah radioterapi. Oto Rhino Laryngol Indones. 2012;42(1):53–63.
Kadrianto, Noegroho T H SH. Dentists' Role in Diagnosis and Management of Oral Involvement of Nasopharyngeal Carcinoma: Serial Case Report. J Dent Indones. 2008;22(1):29–36.
Alvarez P B, Perez‑Sayáns M, Alves M G O, Torreira M G, Iruegas M E P, Carrión AGAB. Dental Management Prior to Radiation Therapy in Patients with Head and Neck Cancer. Indian J Cancer. 2018;55(3).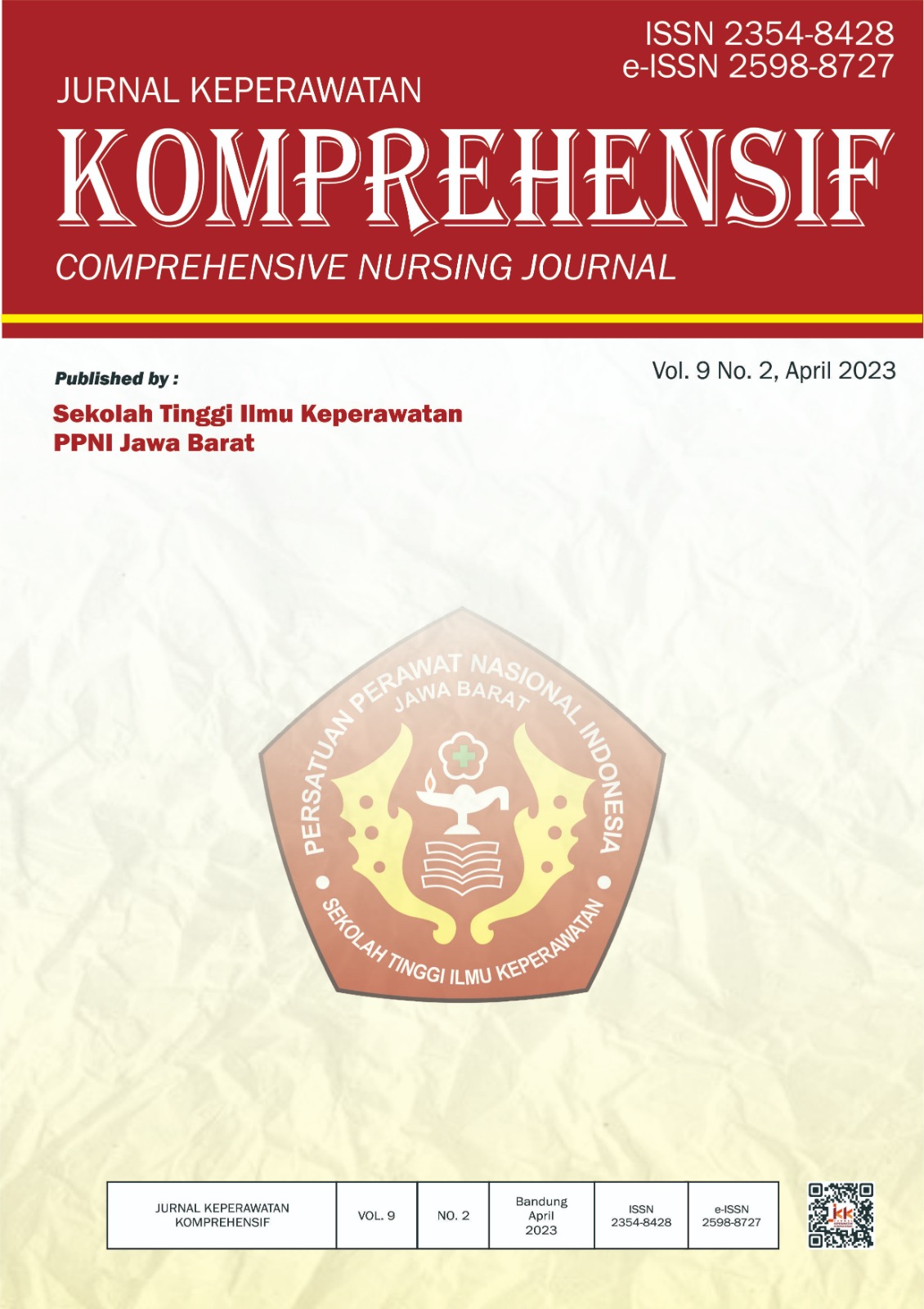 Downloads
How to Cite
Anita, R. ., Setyaningsih, W. ., & Narulita, S. . (2023). Correlation Between Knowledge and Attitude to Oral Hygiene Management Behavior on Nasopharyngeal Cancer Patients Undergoing Radiation Therapy . Jurnal Keperawatan Komprehensif (Comprehensive Nursing Journal), 9(2). https://doi.org/10.33755/jkk.v9i2.484
License
This work is licensed under a Creative Commons Attribution 4.0 International License.