Psychological Changes in Post Kidney Transplant Recipients: Phenomenology Study
Keywords:
Recipients, Kidney transplant, Psychological
Abstract
Aims: Kidney transplantation can have a big impact on recipients, so they must be able to adapt to many changes, including psychological changes. Psychological changes are the most complained about by post- kidney transplant recipients. Psychological changes including feelings of anxiety and worry after kidney transplantation, these feelings arise due to post-transplant complications, feelings of guilt and fear of rejection, treatment regimens and uncertainty about the future. Therefore, recipients must be able to deal with psychological changes after kidney transplantation.
Objective: To explore the psychological changes of post-kidney transplant recipients.
Methods: A qualitative study using a phenomenological approach. This study was conducted on 6 participants who were undergone kidney transplantation. Purosive sampling was performed and data was collected through 35 to 60 min. Data collection in this study was carried out through in-depth interviews, audio recording and field notes.  The data analysis technique uses the Collaizi method (1978).
Result: This study obtained results including: psychological adaptation transitions and post-transplant anxiety control strategies.
Conclusion: Kidney transplant provide better psychological changes if the recipients can implement strategies to control emotions. Therefore, it is important to have family, social and nurses support in controlling the psychological changes of post-kidney transplant recipients.
References
Thurlow JS, Joshi M, Yan G, Norris KC, Agodoa LY, Yuan CM, et al. Global epidemiology of end-stage kidney disease and disparities in kidney replacement therapy. Am J Nephrol. 2021;52(2):98–107.
Bello AK, Levin A, Lunney M, Osman MA, Ye F, Ashuntantang GE, et al. Status of care for end stage kidney disease in countries and regions worldwide: International cross sectional survey. BMJ. 2019;367.
Filipska A, Bohdan B, Wieczorek PP, Hudz N. Chronic kidney disease and dialysis therapy: incidence and prevalence in the world. Pharmacia. 2021;68(2):463–70.
IRR. 11th report Of Indonesian renal registry 2018. Indones Ren Regist. 2018;14–5.
LeMone P, Burke KM, Bauldoff G, Gubrud P. Medical-surgical Nursing. In: 13th ed. Australia; 2017. p. 901–7.
Moradpour A, Hadian M, Tavakkoli M. Economic evaluation of End Stage Renal Disease treatments in Iran. Clin Epidemiol Glob Heal [Internet]. 2020;8(1):199–204. Available from: https://doi.org/10.1016/j.cegh.2019.07.001
Hanlon M, Abramyan S. Kidney Transplantation [Internet]. Amerika Serikat: StatPearls; 2022. Available from: https://www.ncbi.nlm.nih.gov/books/NBK567755/
Antoun J, Brown DJ, Clarkson BG, Shepherd AI, Sangala NC, Lewis RJ, et al. Experiences of adults living with a kidney transplant—Effects on physical activity, physical function, and quality of life: A descriptive phenomenological study. J Ren Care. 2022;(September):1–8.
Mochtar CA, Alfarissi F, Soeroto AA, Hamid ARAH, Marbun MBH, Rodjani A, et al. Milestones of kidney transplantation in Indonesia. 2017;229–36.
Tamura Y, Urawa A, Watanabe S, Hasegawa T, Ogura T, Nishikawa K, et al. Mood Status and Quality of Life in Kidney Recipients After Transplantation. Transplant Proc. 2018;50(8):2521–5.
Been-Dahmen JMJ, Grijpma JW, Ista E, Dwarswaard J, Maasdam L, Weimar W, et al. Self-management challenges and support needs among kidney transplant recipients: A qualitative study. J Adv Nurs. 2018;74(10):2393–405.
McKeaveney C, Noble H, Courtney AE, Gill P, Griffin S, Johnston W, et al. Understanding the holistic experiences of living with a kidney transplant: An interpretative phenomenological study (protocol). BMC Nephrol. 2020;21(1):1–5.
Tucker EL, Smith AR, Daskin MS, Schapiro H, Cottrell SM, Gendron ES, et al. Life and expectations post-kidney transplant: A qualitative analysis of patient responses. BMC Nephrol. 2019;20(1):1–10.
Valizadeh Zare N, Mohammadi E, Zarea K, Elahi N, Manzari Z. The meaning of coping for kidney transplant recipients: a phenomenological study. J Res Nurs. 2018;23(7):584–95.
Yang FC, Wang SS, Chen HM, Chen CH, Pong SC, Chen CM. Adaptation Process of Male Kidney Transplant Recipients During the Difficult Postoperative Recovery Stage at Home. Transplant Proc [Internet]. 2020;52(10):3221–5. Available from: https://doi.org/10.1016/j.transproceed.2020.06.020
Kim M, Chang S. Adaptation experience during the period following the transplantation in kidney transplant patients. Korean J Transplant. 2021;35(1):S37–S37.
Lee Y, Park H, Jee HJ, Lee HJ, Gwon JG, Min H, et al. Psychological characteristics and associations between living kidney transplantation recipients and biologically related or unrelated donors. BMC Nephrol. 2020;21(1):1–9.
Gunn KM, Skrabal Ross X, McLoughlin M, McDonald S, Olver I. The psychosocial experiences and supportive care preferences of organ transplant recipients and their carers who live in regional Australia. Aust J Rural Health. 2021;29(1):92–105.
Lonargáin D, Brannigan D, Murray C. The experience of receiving a kidney transplant from a deceased donor: Implications for renal services. Psychol Heal [Internet]. 2017;32(2):204–20. Available from: http://dx.doi.org/10.1080/08870446.2016.1254214
Dew MA, Myaskovsky L, Steel LJ. Post-transplant Psychosocial and Mental Health Care of Renal Recipient. In: Psychosocial Care of End-stage Organ Disease and Transplant Patients [Internet]. Switzerland: Springer; 2018. p. 122–4. Available from: https://www.google.co.id/books/edition/Psychosocial_Care_of_End_Stage_Organ_Dis/Z4F7DwAAQBAJ?hl=id&gbpv=0
Hu N, Wang A, Chang T. Social support mediates the relationship between illness perception and psychosocial adaptation among young and middle-aged kidney transplant recipients in China. Front Psychol. 2023;14 (February):1–9.
Zhang C. Family Support or Social Support? The Role of Clan Culture. J Popul Econ. 2019;32:29–49.
Kamaryati NP, Malathum P. Family support: A concept analysis. Pacific Rim Int J Nurs Res. 2020;24(3):403–11.
Mouelhi Y, Elisabeth J, Alessandri M, Pedinielli N, Moal V, Aurelie M, et al. Factors associated with health-related quality of life in kidney transplant recipients in France. BMC Nephrol. 2021;16(3 March):1–12.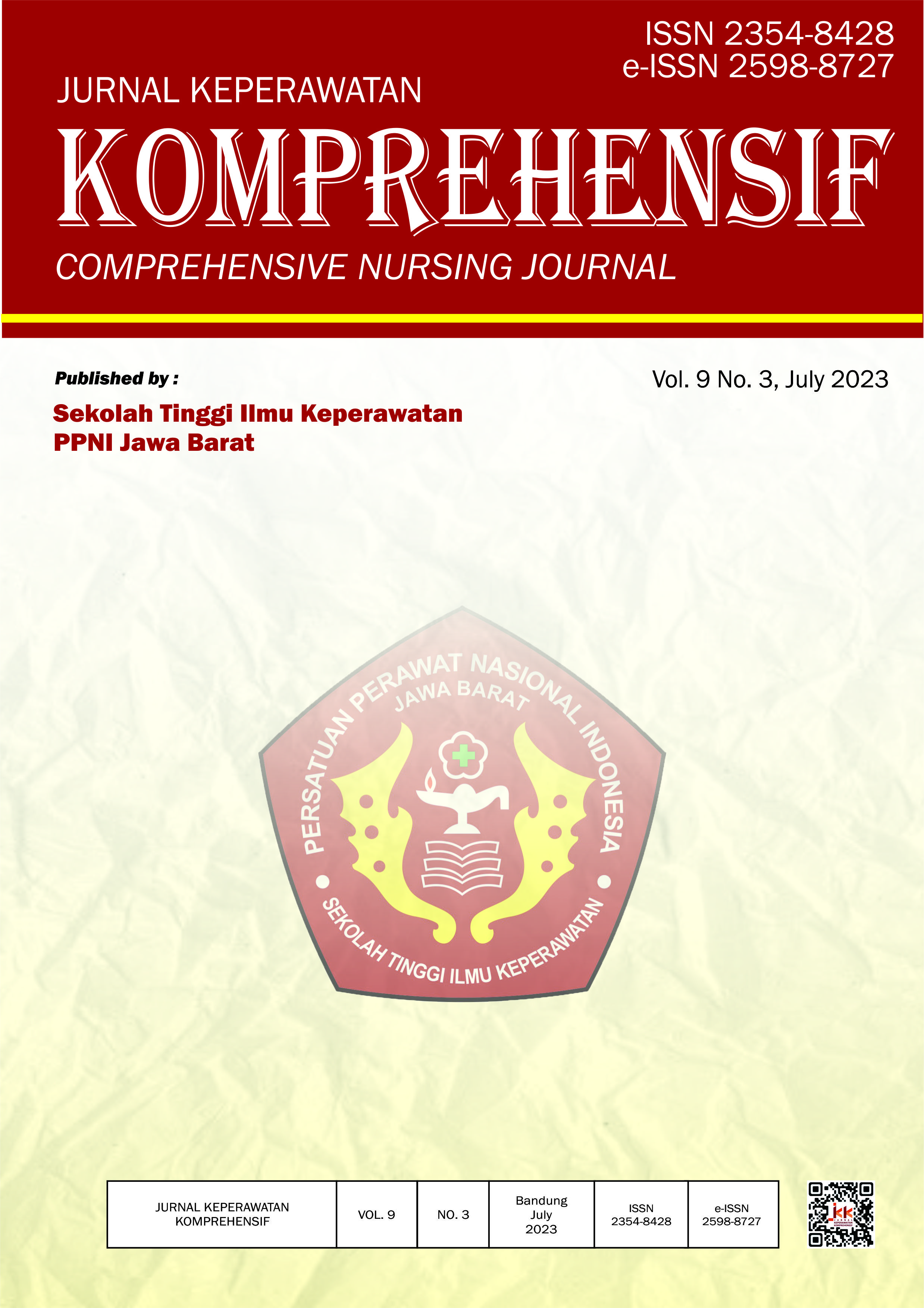 Downloads
How to Cite
Rahmadhanty, A. ., Zulfiqar, Y. ., Lenggogeni, D. P. ., Neherta, M. ., Huriani, E. ., Mailani, F. ., & Susmiati, S. . (2023). Psychological Changes in Post Kidney Transplant Recipients: Phenomenology Study . Jurnal Keperawatan Komprehensif (Comprehensive Nursing Journal), 9(3). https://doi.org/10.33755/jkk.v9i3.535
License
This work is licensed under a Creative Commons Attribution 4.0 International License.