Audio Visual Education Effectivity to Increase Knowledge about Anemia in Pregnant Women
Keywords:
audiovisual education, health education, pregnant women, anemia
Abstract
Aims: WHO reported 36.5% pregnant women in the world experienced anaemia, which 75.0% of them lived in developing countries. It included 63.5% of them who lived in Indonesia. The highest prevalence of anemic pregnancy in Jakarta province was located in North Jakarta, that related to iron deficiency and nutritional status. Boosting knowledge and educating women about pregnancy had to be done effectively in order to get optimal output. Choosing the right educational media was an essential part of the movement. Audio Visual Education (AVE) was commonly use to educate people, instead of limited resources. It stimulated two human sense, sight and hearing, which estimated could increase learning process.
Method: We held a quasi-experimental study by gathering 30 pregnant women to watch AVE about anemia in pregnancy who were willing to participate and havent received any education about anemia via educational video. Exclusion criteria were being uncooperative, such as not watching the video completely and didn't fill in pre- and posttest completely. We used purposive sampling to gather participants. There were pre and post-test ten minutes before and after intervention. We performed Wilcoxon Test to analyze the effectivity of AVE in order to increase knowledge about anemia (p<0.05).
Results: We found AVE could boost knowledge score in the third pregnant women statistically significant. Before intervention, average knowledge score was 56,7% which increased to 91,7% after AVE (p value=0.0001).  
Conclusion: This study implied AVE was an effective media to increase participant's knowledge about anemic pregnancy in pregnant women. Strengthening health literacy through planned educational programs would improve health behavior of individual and community.
References
Kemenkes RI. Profil Kesehatan Indonesia Tahun 2019. Jakarta, Indonesia: Jakarta : Kementerian Kesehatan RI; 2020.
Cunningham. Obstetric Wiliam. Jakarta: Jakarta : EGC; 2015.
Wiknjosastro. Ilmu Kebidanan Ed.3. Jakarta: Jakarta: Yayasan Bina Pustaka Sarwono Prawirohardjo.; 2016
Mochtar R. Sinopsis Obstetri. In Jakarta: EGC; 2015.
World Health Organization (WHO). Maternal Mortality Key Fact. Geneva : Swiss: WHO Press; 2019.
Manuaba. Ilmu Kebidanan, Penyakit Kandungan, dan KB. Ilmu Kebidanan, Penyakit, Kandungan, dan KB. Jakarta: Jakarta : EGC; 2017.
Proverawati, Asfuah. Asuhan Gizi Untuk Kebidanan. Yogyakarta : Nuha Medika; 2014.
Nguyen PH, Gonzalez-Casanova I, Nguyen H, Pham H, Truong T V, Nguyen S, et al. Multicausal etiology of anemia among women of reproductive age in Vietnam. Eur J Clin Nutr. 2015 Jan;69(1):107–13.
Dinas Kesehatan Provinsi DKI Jakarta. Laporan Tahunan Dinas Kesehatan Provinsi DKI Jakarta. Jakarta; 2018.
Solehekha ASN, Ernawati. Efektivitas Audio Visual Education (Ave) Terhadap Tingkat Pengetahuan Anemia Pada Ibu Hamil Di Wilayah Kerja Puskesmas Purwantoro I. Naskah Publikasi. 2021;47(4):124–34.
Oktaviani, Maria Julin Rarome. Peningkatan Pengetahuan dan Sikap Ibu Hamil tentang Anemia pada Kehamilan dengan Media Video dan Lembar Balik. Kesehatan Metro Sai Wawai. 2019;12(1):56–62.
Fertimah AR, Widyawati W, Mulyani S. Efektifitas Penggunaan Media Audiovisual dan Aplikasi Permitasi Terhadap Pengetahuan dan Kepatuhan Ibu Meminum Tablet Besi. Jurnal Keperawatan Klinis dan Komunitas. 2022;5(3):134.
Choirunissa H. Gambaran Tingkat Pengetahuan Ibu Hamil Tentang Anemia Di Puskesmas Pakualaman Kota Yogyakarta. Politeknik Kesehata Kementrian Kesehatan Yogyakarta; 2019.
Prabandari AW, Hastuti S, Yani Widyastuti. Pengaruh Pemberian Penyuluhan Dengan Media Video Dan Booklet Terhadap Tingkat Pengetahuan Kesehatan Reproduksi Remaja Di SMK 2 Muhammadiyah Bantul. Politeknik Kesehatan Kemenkes Yogyakarta; 2018.
Notoatmodjo S. Promosi Kesehatan dan Ilmu Perilaku. In Jakarta: Jakarta : Rineka Cipta; 2015.
Wawan A, Dewi M. Teori & Pengukuran Pengetahuan, Sikap dan Perilaku Manusia. In Yogyakarta: Yogyakarta: Nuha Medika; 2018.
Oktaviani I. Pengaruh Penyuluhan Dengan Media Audiovisual Terhadap Kepatuhan Ibu Hamil Dalam Mengkonsumsi Tablet Besi Di Puskesmas Paliyan Gunungkidul Tahun 2018. Skripsi. 2018;
Salsabila W, Sumartini NP, Purnamawati D. Pengaruh Edukasi Dengan Video Tutorial Terhadap Pengetahuan Dan Keterampilan Siswa Dalam Melakukan Basic Life Support Di Pondok Pesantren Nurul Ilmi Ranggagata. Jurnal Keperawatan Terpadu Integrated Nursing Journal). 2021;3(2).
Pratiwi S. The Effect of Health Promotion With Video Media on Knowledge and Behavior About Anemia in Pregnant Mothers. Jurnal Health Sains. 2022 Sep 22;3(9):1403–8.
Romanti Y. Efektivitas Penyuluhan Dengan Media Video Terhadap Pengetahuan Remaja Putri Tentang Anemia Di SMAN 10 Kota Bengkulu. Politeknik Kesehatan Bengkulu; 2021.
Ramdaniati SN, Somantri UW. Perbedaan Efektivitas Pendidikan Kesehatan Antara Media Video Dan Media Leaflet Terhadap Peningkatan Pengetahuan Dan Sikap Pencegahan Covid-19 Di MAN 1 Pandeglang Tahun 2021. Hearty: Jurnal Kesehatan Masyarakat. 2022;10(1):32–41.
Faijurahman AN, Ramdani HT. Efektivitas Penyuluhan Kesehatan Dengan Video Dan Powerpoint Reproduksi Remaja ( Studi kasus di SMK HIKMAH Garut ). JUrnal Kesehatan Tambusai. 2022;3:177–84.
Mahdalena V, Handayani L. Perbedaan Pengetahuan Belajar Siswa Di Desa Dan Di Kota Menggunakan Media Video. Jurnal Ilmiah LISKI. 2020;6(2):72–82.
Anifah F. Pengaruh Pendidikan Kesehatan Melalui Media Vidio Terhadap Pengetahuan Tentang Anemia Pada Remaja Putri. Jurnal Keperawatan Muhammadiyah. 2020;5(1):296–300.
Noronha JA, Bhaduri A, Bhat HV, Kamath A. Interventional study to strengthen the health promoting behaviours of pregnant women to prevent anaemia in southern India. Midwifery. 2013 Jul;29(7):e35–41.
Lestari YD, Herawati, Permatasari L, Hamidah N. Pengaruh Pendidikan Kesehatan Reproduksi Remaja melalui Media Animasi terhadap perubahan Pengetahuan dan Sikap pada Siswi SMP di Pondok Pesantren Nurul Jadid. Midwifery Journal. 2021;3(1):1–9.
Mustofa E, Subadiyasa IMA, Sholahuddin A, Nurdianto AR. Effects of Reproductive Health Education Using Video Animation Towards Reproductive Health Knowledge and Attitudes in 5th and 6th Elementary Grade Students in Serang City, Banten. Jurnal Ilmiah Kedokteran Wijaya Kusuma. 2021;10(2):166.
Balqis. Efektivitas Video Sebagai Media Edukasi Untuk Perubahan Pengetahuan, Sikap, Dan Niat Terhadap Pencegahan Anemia Pada Remaja Putri Di Sman 21 Makassar. Universitas Hasanuddin Makassar; 2022.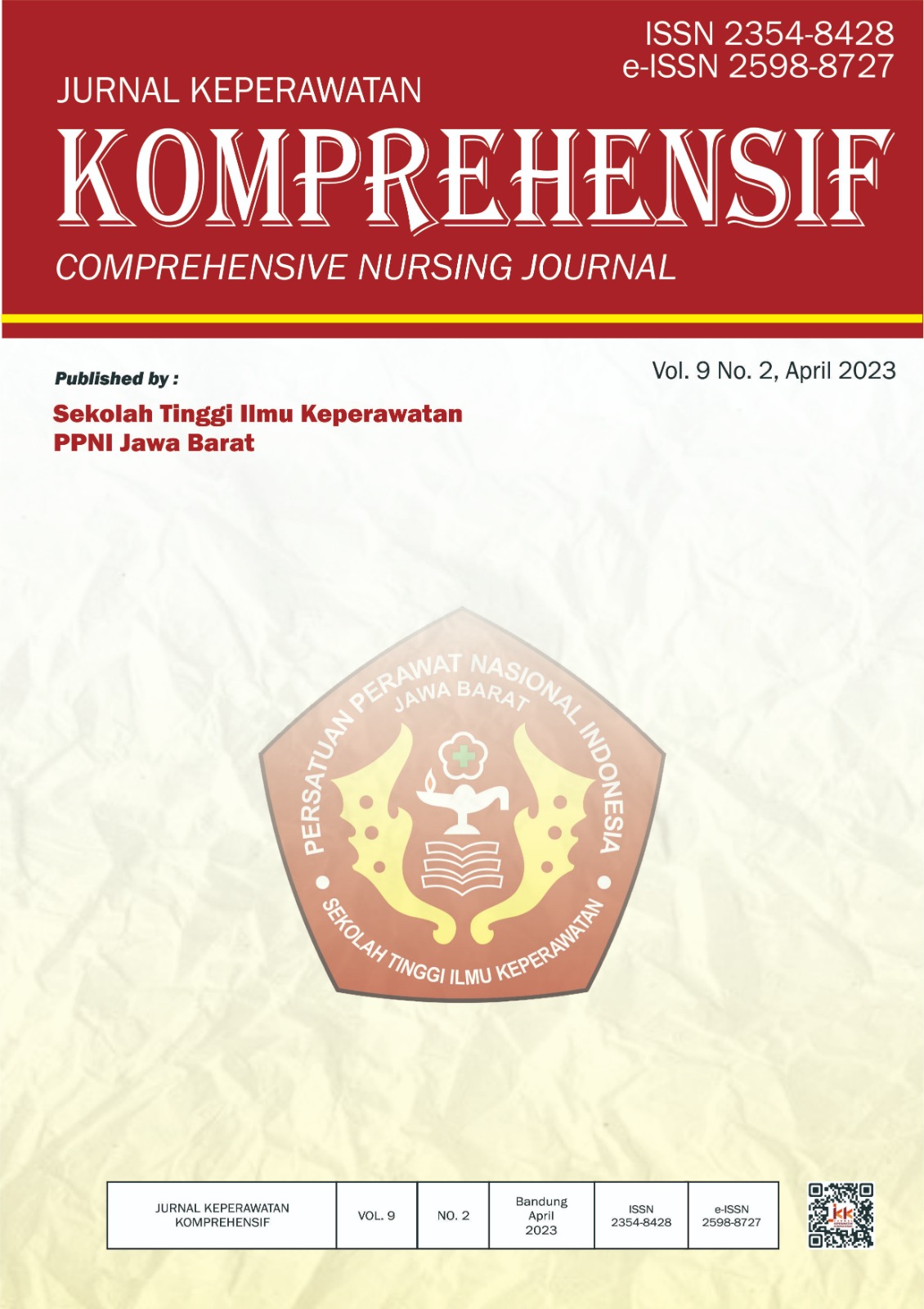 Downloads
How to Cite
Nuraeni, I. ., Futriani , E. S. F. ., Murtiani, F., & Dinar Widiantari, A. (2023). Audio Visual Education Effectivity to Increase Knowledge about Anemia in Pregnant Women . Jurnal Keperawatan Komprehensif (Comprehensive Nursing Journal), 9(2). https://doi.org/10.33755/jkk.v9i2.495
License
This work is licensed under a Creative Commons Attribution 4.0 International License.