Nursing Care: A Combination of Occupational Therapy and Psycho-Religious Therapy for Changes in Hallucination Symptoms in Schizophrenia Patients at Nur Ilahi Rehabilitation Clinic
Abstract
Aims: Schizophrenia is a mental disorder that causes hallucinations, delusions, and highly disorganized thinking and behavior that impairs daily functioning, and can be disabling. 90% of people with schizophrenia have hallucinations. This study aimed to determine the effectiveness of occupational therapy and psychoreligious therapy in reducing hallucinations.
Objective: This study was to determine the effectiveness of occupational therapy and psychoreligious therapy in reducing hallucinations.
Methode : This study used a case study with a nursing care approach that includes assessment to evaluation. Patients with auditory hallucinations were given occupational therapy to shift focus and psycho-religious therapy to provide relaxation for hallucinatory patients. This therapy was given for 10 days with a total of 5 meetings.
Results: Problems with sensory perceptual disturbances: reduced auditory hallucinations. Patient get a combination of occupational therapy and psycho-religious therapy which shows changes in behavior such as clients being able to control hallucinations and taking part in activities held by the clinic. This can be seen from the client being able to control his hallucinations, the frequency of hallucinations is reduced, and the client regularly participates in activities held by the clinic.
Conclusion: Occupational therapy and psycho-religious therapy can be used for patients with hallucinatory disorders.  Therapy is only carried out for 10 days to the patient. so the recommendation for further research is the need to analyze the effectiveness of occupational therapy and psycho-religious therapy to reduce the symptoms of auditory hallucinations.
Nursing Implications: This research was conducted to become a basis for nurses in carrying out nursing interventions in patients with sensory perception disorders: auditory hallucinations and can be a guideline for health facilities to make policies regarding interventions for clients with auditory hallucinations.
References
Yudhantara DS, Istiqomah R. Sinopsis Skizofrenia untuk Mahasiswa Kedokteran. 1st ed. Malang: UB Press; 2018. 2 p.
Hany M, Rehman B, Azhar Y, Chapman J. Schizophrenia. StatPearls. 2022 Aug;
WHO. Schizophrenia. 2022.
Idaiani S, Yunita I, Tjandrarini DH, Indrawati L, Darmayanti I, Kusumawardani N, et al. Prevalensi Psikosis di Indonesia berdasarkan Riset Kesehatan Dasar 2018. J Penelit dan Pengemb Pelayanan Kesehat. 2019;3(1):9–16.
Rohana L. Gambaran Karakteristik Klien Halusinasi di Rumah Sakit Jiwa Prof. Dr. Muhammad Ildrem Medan Tahun 2019. Poltekes Medan. 2020;
Bulgari V, Iozzino L, Ferrari C, Picchioni M, Candini V, Francesco A, et al. de Girolamo G; VIORMED-1 group. Clinical and neuropsychological features of violence in schizophrenia: a prospective cohort study. Schizophr Res [Internet]. 2017;181. Available from: https://doi.org/10.1016/j.schres.2016.10.016
Yosep I, Mediani H, Lindayani L, Sriati A. How patients with schizophrenia "as a Victim" cope with violence in Indonesia: a qualitative study. Egypt J Neurol Psychiatry Neurosurg. 2021 Dec 1;57.
Rustika M. Gambaran Asuhan Keperawatan Pemberian Terapi Aktivitas Kelompok (TAK) Orientasi Realita Sesi I : Pengenalan Orang Pasien Halusinasi pada Skizofrenia Tahun 2020. Poltekes Denpasar. 2020;
Samal MH, Ahmad AK, Saidah S. Pengaruh Penerapan Asuhan Keperawatan pada Klien Halusinasi terhadap Kemampuan Klien Mengontrol Halusinasi di RSKD Provinsi Sulawesi Selatan. J Ilm Kesehat Diagnosis. 2018 Jun;12(5):546–50.
Astutik W. Literature Review Efektifitas Pemberian Terapi Okupasi pada Skizofrenia. Poltekes Depkes. 2021;
Triyani FA, Dwidiyanti M, Suerni T. Gambaran Terapi Spiritual pada Pasien Skizofrenia : Literature Review. J Ilmu Keperawatan Jiwa. 2019 May;2(1):19–24.
Rinjani S, Murandari, Nugraha A, Widiyanti E. Efektivitas Terapi Psikoreligius Terhadap Pasien Dengan Halusinasi No Title. J Med Cendikia. 2020;07(02):136–44.
Aliche CJ, Ifeagwazi CM, Nwamarah JU, Okechukwu FO, Ngwu EC. Mediating roles of positive reappraisal and stigma resistance in the relationship between mindfulness and quality of life among stable schizophrenia patients. Curr Psychol [Internet]. 2023; Available from: https://doi.org/10.1007/s12144-023-04563-8
Yousef A, Elshabrawy A, Eldeeb S, Mahdy R. Prevalence and clinical implication of adverse childhood experiences and their association with substance use disorder among patients with schizophrenia. Egypt J Neurol Psychiatry Neurosurg. 2022 Dec 1;58.
Öztürk Z, Şahi N, Altun Ö. The effect of nursing interventions to instill hope on the internalized stigma, hope, and quality of life levels in patients with schizophrenia. Perspect Psychiatr Care [Internet]. 2022;58. Available from: https://doi.org/10.1111/ppc.12800
Crowe S, Cresswell K, Robertson A, Huby G, Avery A, Sheikh A. The case study approach. 2011;
Caqueo-Urízar A, Ponce-Correa F, Urzúa A. Effects of Recovery Measures on Internalized Stigma in Patients Diagnosed with Schizophrenia. Int J Ment Health Addict [Internet]. 2022;20(6):3339–55. Available from: https://doi.org/10.1007/s11469-022-00847-5
Ercan Doğu S, Kayıhan H, Kokurcan A, Örsel S. The effectiveness of a combination of Occupational Therapy and Social Skills Training in people with schizophrenia: A rater-blinded randomized controlled trial. Br J Occup Ther. 2021;84(11):684–93.
Garety P, Ward T, Emsley R, Greenwood K, Freeman D, Fowler D, et al. Effects of SlowMo, a Blended Digital Therapy Targeting Reasoning, on Paranoia Among People With Psychosis: A Randomized Clinical Trial. JAMA psychiatry. 2021 Jul;78(7):714–25.
Ahn M-H, Alsabbagh N, Lee H-J, Kim H-J, Jung M-H, Hong S-K. Neurobiological Signatures of Auditory False Perception and Phantom Perception as a Consequence of Sensory Prediction Errors. Vol. 11, Biology. 2022.
Abdurkhman RN, Maulana MA. PSIKORELIGIUS TERHADAP PERUBAHAN PERSEPSI SENSORIK PADA PASIEN HALUSINASI PENDENGARAN DI RSUD ARJAWINANGUN KABUPATEN CIREBON. J Educ Dev Pendidik Tapanuli Selatan. 2022;10(1):251–3.
Linggi EB. FAKTOR – FAKTOR YANG BERHUBUNGAN DENGAN KEKAMBUHAN PADA PASIEN HALUSINASI PENDENGARAN DI RUANGAN NYIUR RUMAH SAKIT KHUSUS DAERAH PROVINSI SULAWESI SELATAN. J Keperawatan Florence Nightingale. 2018;1(1):390–2.
Huang WY, Chen SP, Pakpour AH, Lin CY. The mediation role of self-esteem for self-stigma on quality of life for people with schizophrenia: a retrospectively longitudinal study. J Pac Rim Psychol. 2018;12.
Livana, Rihadini, Kandar, Suerni T, Sujarwo, Maya A, et al. Peningkatan Kemampuan Mengontrol Halusinasi Melalui Terapi Generalis Halusinasi. J Ilm Kesehat Jiwa. 2020;2(1):1–8.
Yosep I, Sutini T. Buku Ajar Keperawatan Jiwa. 6th ed. Bandung: P.T. Refika Aditama.; 2014.
Bolt M, Ikking T, Baaijen R, Saenger S. Occupational Therapy and Primary Care. Prim Health Care Res Dev. 2019;20(e27):1–6.
Yosep I, Mardhiyah A, Sriati A. Mindfulness Intervention for Improving Psychological Wellbeing Among Students During COVID-19 Pandemic: A Scoping Review. J Multidiscip Healthc [Internet]. 2023 Dec 31;16:1425–37. Available from: https://www.tandfonline.com/doi/abs/10.2147/JMDH.S411849
Jatinandya MPA, Purwito D. Terapi Okupasi Pada Pasien Dengan Halusinasi Di Rumah Sakit Umum Daerah Banyumas. J Keperawatan Muhammadiyah. 2020 Oct;295–301.
Anjaswarni T, Bahari K, Meryda DP. Peningkatan Kemandirian Pasien Menarik Diri dalam Aktivitas Sehari-Hari dengan Terapi Musik di Rumah Sakit Jiwa Lawang. J Keperawatan. 2016;IX(2):76–83.
Temesgen WA, Chien WT, Bressington D. Factors influencing subjective recovery of people with recent-onset psychosis: A cross-sectional study in a low-income sub-Saharan country. Psychiatry Res. 2020 May;287:112282.
Freeman D, Waite F, Emsley R, Kingdon D, Davies L, Fitzpatrick R, et al. The efficacy of a new translational treatment for persecutory delusions: study protocol for a randomised controlled trial (The Feeling Safe Study). Trials. 2016 Mar;17(1):134.
Al-Yahya NM. Effects of psycho education intervention in improving insight and medication compliance of schizophrenic clients, Riyadh, Saudi Arabia. World J Med Sci [Internet]. 2014;11. Available from: https://doi.org/10.5829/idosi.wjms.2014.11.3.84256
Yosep I, Mardhiyah A, Hikmat R. Spiritual Needs in Cancer Patients. Sci Midwifery [Internet]. 2022;10(2):1034–40. Available from: https://www.midwifery.iocspublisher.org/index.php/midwifery/article/view/429
Putkonen A, Kuivalainen S, Louheranta O, Repo-Tiihonen E, Ryynänen O-P, Kautiainen H, et al. Cluster-randomized controlled trial of reducing seclusion and restraint in secured care of men with schizophrenia. Psychiatr Serv. 2013 Sep;64(9):850–5.
Yosep I, Hikmat R, Mardhiyah A. Types of Digital-Based Nursing Interventions for Reducing Stress and Depression Symptoms on Adolescents During COVID-19 Pandemic: A Scoping Review. J Multidiscip Healthc [Internet]. 2023 Dec 31;16:785–95. Available from: https://www.tandfonline.com/doi/abs/10.2147/JMDH.S406688
Wu J, Vratsistas-Curto A, Shiner CT, Faux SG, Harris I, Poulos CJ. Can in-reach multidisciplinary rehabilitation in the acute ward improve outcomes for critical care survivors? A pilot randomized controlled trial. J Rehabil Med. 2019 Sep;51(8):598–606.
Yosep I, Suryani S, Mediani HS, Mardhiyah A, Maulana I. Digital Therapy: Alleviating Anxiety and Depression in Adolescent Students During COVID-19 Online Learning - A Scoping Review. J Multidiscip Healthc [Internet]. 2023 Dec 31;16:1705–19. Available from: https://www.tandfonline.com/doi/abs/10.2147/JMDH.S416424
Ramadhani DP. Pengaruh Terapi Okupasi terhadap Activity Daily Living pada Orang dengan Skizofrenia (ODS) : Literature Review. Unisa Digit Libr. 2021;
Fjellvang M, Grøning L, Haukvik UK. Imaging Violence in Schizophrenia: A Systematic Review and Critical Discussion of the MRI Literature. Front Psychiatry. 2018;9.
Nowak I, Waszkiewicz J, Świtaj P, Sokół-Szawłowska M, Anczewska M. A qualitative study of the subjective appraisal of recovery among people with lived experience of schizophrenia in Poland. Psychiatr Q [Internet]. 2017;88. Available from: https://doi.org/10.1007/s11126-016-9459-6.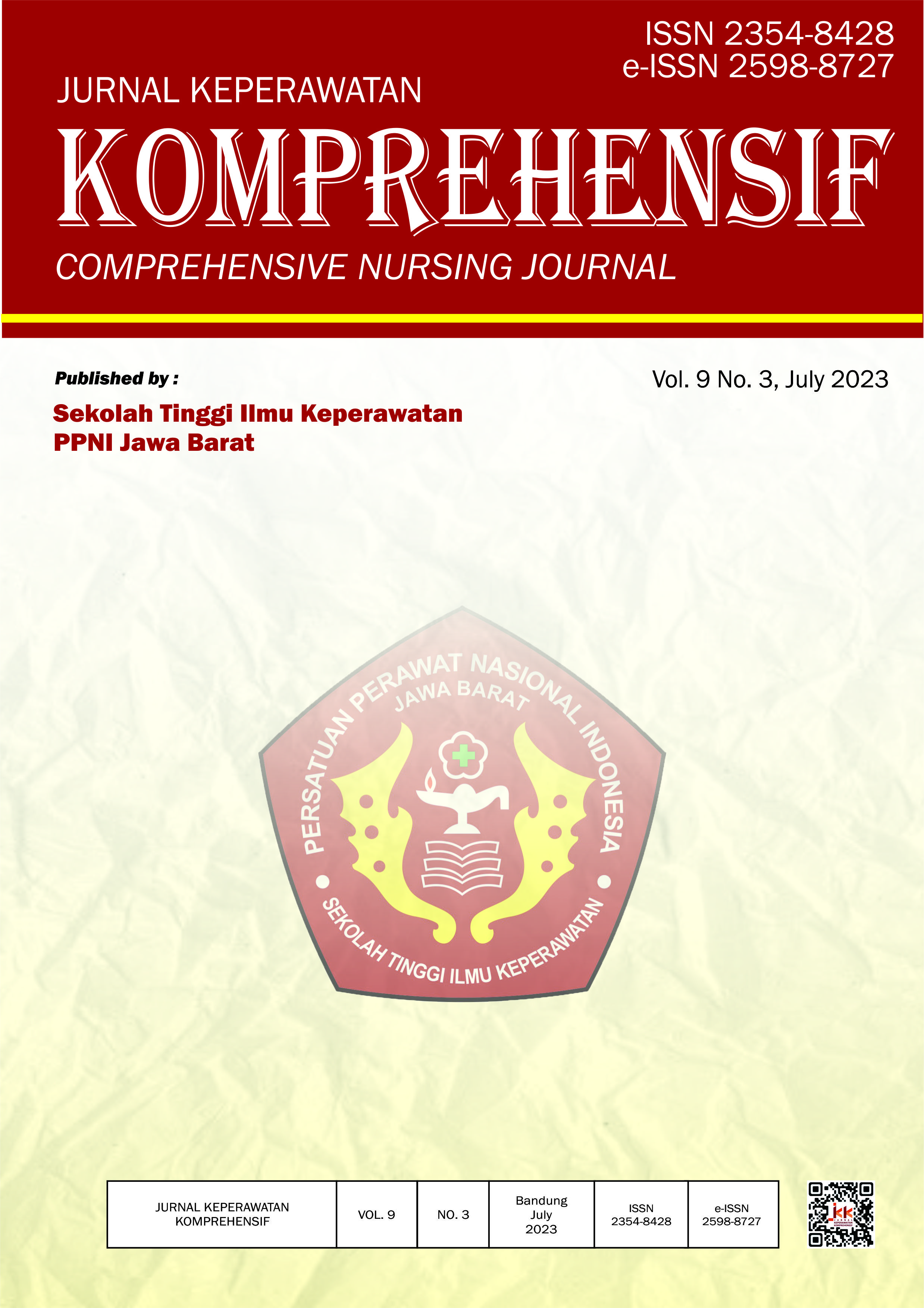 Downloads
How to Cite
Yosep, I., Aulia Husna, A. ., & Hidayati, N. O. . (2023). Nursing Care: A Combination of Occupational Therapy and Psycho-Religious Therapy for Changes in Hallucination Symptoms in Schizophrenia Patients at Nur Ilahi Rehabilitation Clinic . Jurnal Keperawatan Komprehensif (Comprehensive Nursing Journal), 9(3). https://doi.org/10.33755/jkk.v9i3.479
License
This work is licensed under a Creative Commons Attribution 4.0 International License.