The Effect of Date Palm (Phoenix Dactylifera) Juice to Prevent Stunting
Keywords:
datejuice;, toddler;, stunting;
Abstract
Aims: One of the problems due to lack of chronic nutrient intake in toddlers is stunting. Stunting can be prevented by fulfilling nutritional intake with nutrient-rich foods such as date juice, because date juice is a good source of carbohydrates, amino acids, minerals, and dietary fiber to meet the body's nutritional needs, especially in toddlers. This study aims to determine the effect of date juice on the prevention of stunting in children under five.
Methods: The research design used was quasi-experimental with a two group Pretest-Posttest control group design. A total of 78 children under five who were measured for length and weight consisted of 34 people in the intervention group by giving date juice and 34 people in the control group without giving date juice.
Result: The study was conducted for 3 months. After the intervention, the average body length and body weight in the intervention group increased to 12.91 for body length and 87.67 for body weight. While body length and body weight in the control group did not experience significant changes. The results of the paired t test showed a significant p-value of (<0.05) while in the control group the p value was> 0.05, meaning that there was no change in body length and body weight in the control group.
Conclusion: This study shows that date juice has an effect in preventing stunting. Based on the results of this study, nurses need to maximize stunting prevention education by meeting nutritional needs by consuming nutrient-rich foods such as date juice.
References
Kementerian Kesehatan R.I. Laporan Nasional RISKESDAS 2018 [Internet]. Badan Penelitian dan Pengembangan Kesehatan. 2018. p. 221–2. Available from: http://labdata.litbang.kemkes.go.id/images/download/laporan/RKD/2018/Laporan_Nasional_RKD2018_FINAL.pdf
Dinkes Provinsi Sulteng. Profil Kesehatan Tahun 2019. Dinas Kesehat Sulawesi Teng. 2019;1–222.
Kementerian Kesehatan Indonesia. Profil Kementerian Kesehatan Indonesia 2019. Vol. 53, Kementerian Kesehatan RI. 2019. 1689–1699 p.
Trihono, Atmarita, Tjandrarini, Hapsari D, Irawati, Anies, et al. Pendek (Stunting) di Indonesia, Masalah dan Solusinya [Internet]. Jakarta: Lembaga Penerbit Badan Litbangkes; 2015. Available from: http://repository.bkpk.kemkes.go.id/id/eprint/3512
Bertalina B, P.R A. Hubungan Asupan Gizi, Pemberian Asi Eksklusif, dan Pengetahuan Ibu dengan Status Gizi (Tb/U) Balita 6-59 Bulan. J Kesehat [Internet]. 2018 May 25;9(1):117. Available from: http://ejurnal. poltekkes-tjk.ac.id/index.php/JK/ article/view/800
Mugianti S, Mulyadi A, Anam AK, Najah ZL. Faktor Penyebab Anak Stunting Usia 25-60 Bulan di Kecamatan Sukorejo Kota Blitar. J Ners dan Kebidanan (Journal Ners Midwifery). 2018;5(3):268–78.
Hussain MI, Farooq M, Syed QA. Nutritional and biological characteristics of the date palm fruit (Phoenix dactylifera L.) – A review. Food Biosci [Internet]. 2020 Apr;34:100509. Available from: https://linkinghub.elsevier.com/retrieve/pii/S2212429218309866
Assirey EAR. Nutritional composition of fruit of 10 date palm ( Phoenix dactylifera L.) cultivars grown in Saudi Arabia . J Taibah Univ Sci [Internet]. 2015;9(1):75–9. Available from: http://dx.doi.org/10. 1016/j.jtusci.2014.07.002
Baliga MS, Baliga BRV, Kandathil SM, Bhat HP, Vayalil PK. A review of the chemistry and pharmacology of the date fruits (Phoenix dactylifera L.). Food Res Int [Internet]. 2011 Aug;44(7):1812–22. Available from: https://linkinghub.elsevier.com/retrieve/pii/S0963996910002243
Rosmalina Y, Luciasari E, Aditianti A, Ernawati F. Upaya Pencegahan Dan Penanggulangan Batita Stunting: Systematic Review. Gizi Indones. 2018;41(1):1.
Oluwasina OO, Demehin BF, Awolu OO, Igbe FO. Optimization of starch-based candy supplemented with date palm (Phoenix dactylifera) and tamarind (Tamarindus indica L.). Arab J Chem [Internet]. 2020 Nov;13 (11):8039–50. Available from: https://linkinghub.elsevier. com/ retrieve/pii/S1878535220303671
Ngaisyah RD. Hubungan Sosial Ekonomi Dengan Kejadian Stunting pada Balita di Desa Kanigoro, Saptosari Gunung Kidul. J Med Respati. 2015;10(4):65–70.
Ayuningtyas A, Simbolon D, Rizal A. Asupan Zat Gizi Makro dan Mikro terhadap Kejadian Stunting pada Balita. J Kesehat. 2018;9(3):445.
Ristyaning P, Sangging A, Abdillah A, Klinik B, Lampung U, Kedokteran F, et al. Efektivitas Sari Buah Kurma Terhadap Anemia Defisiensi Besi (ADB) Pada Balita The Effectiveness Of Dates Fruit Extract Against Iron Deficiency Anemia In Toddlers. 2017;6:1–6.
Guyton A., Hall J. Buku Ajar Fisiologi Kedokteran. 12th ed. Jakarta: EGC; 2014.
Setiowati W. Pengaruh Sari Kurma (Phoenix Dactylifera) terhadap Peningkatan Kadar Hemoglobin Ibu Hamil Trimester III (The Influence of Palm Extract (Phoenix Dactylifera) To Increase of Hemoglobin Level To Trimester III Pragnant Woman). J Darul Azhar. 2018;6(1):85–91.
Fatmah F. Intervensi biskuit tempe kurma bagi peningkatan status gizi balita penderita tuberkulosis. J Gizi Klin Indones. 2013;9(4):147.
Hidana R. PENGARUH PEMBERIAN SARI KURMA PADA IBU MENYUSUI EKSLUSIF TERHADAP STATUS GIZI BAYI USIA 0-5 BULAN DI KOTA SEMARANG. HEARTY [Internet]. 2018 Mar 1;6(1). Available from: http://ejournal.uika-bogor.ac.id/ index.php/Hearty/article/view/1253
M AA, Domili I. PENGARUH ASUPAN ENERGI DAN PROTEIN, POLA ASUH, DAN STATUS KESEHATAN TERHADAP KEJADIAN STUNTING PADA ANAK USIA 12-36 BULAN DI PUSKESMAS TILANGO KECAMATAN TILANGO KABUPATEN GORONTALO. J Heal Nutr. 2018;4(1).
Susilowati E, Mujiastuti R, Ambo SN, Sugiartowo. Simulasi, Deteksi dan Intervensi Dini Tumbuh Kembang (SDIDTK) Pada Posyandu Kelurahan Penggilingan Jakarta Timur. J Pengabdi Masy Tek. 2019;1(2):59–68.
Vayalil PK. Date Fruits ( Phoenix dactylifera Linn): An Emerging Medicinal Food. Crit Rev Food Sci Nutr [Internet]. 2012 Mar;52(3):249–71. Available from: http://www.tandfonline.com/doi/abs/10.1080/10408398.2010.499824
Berlianita IT, Kristiastuti D, Sutiadiningsih A, Miranti MG. Pengaruh Penambahan Sari Kurma (Curcuma Zanthorrhiza) dan Sari Temulawak (Curcuma Zanthorrhiza) Terhadap Sifat Organoleptif Jelly Drink. J Tata Boga. 2021;10(1):175–84.
Hernawan B, Sofro ZM, Sulistyorini SL. Pengaruh Konsumsi Sari Kurma (Dates Syrup) Terhadap Konsentrasi Lipid Peroksida Selama Latihan Aerobik Akut Bagi Pemula. Biomedika. 2019;11(1):30.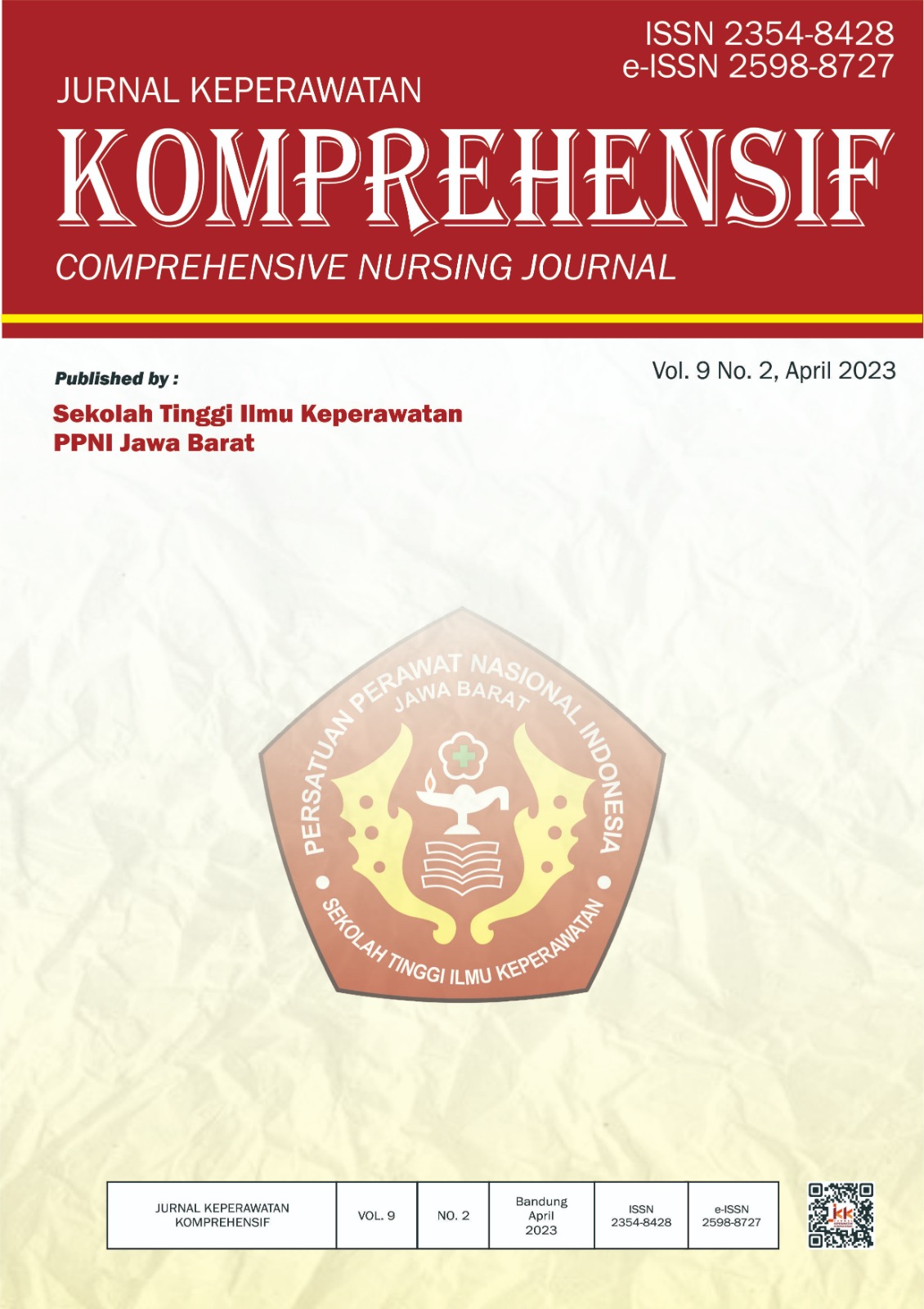 Downloads
How to Cite
Suharto, D. N., & Rantesigi, N. (2023). The Effect of Date Palm (Phoenix Dactylifera) Juice to Prevent Stunting. Jurnal Keperawatan Komprehensif (Comprehensive Nursing Journal), 9(2). https://doi.org/10.33755/jkk.v9i2.460
License
This work is licensed under a Creative Commons Attribution 4.0 International License.