Islamic Self-Healing on Increasing Patient Self-Efficacy
Keywords:
CKD, Efficacy, Healing, Islamic
Abstract
Aims: Hemodialysis is one of kidney replacement therapy that is mostly performed by patients with chronic kidney failure. Changes in various physical and psychological conditions that cause CKD patients on hemodialysis will find excessive stressors. One of the alternative and complementary therapies to achieve self-healing is mind body and spirit therapy. The human aspect is an integral part of a number of therapies such as prayer, health, and yoga.
Objective: Determine the effect of Islamic self healing n the level of self-efficacy in chronic kidney failure patients undergoing hemodialysis Methods: This research was quasi-experimental  pretest-posttest with control group design. The samples were collected approximately 40 by randomly sampling during 12-26 July 2022. The population in this study was all patients who underwent hemodialysis routinely at a RSUD dr. Soedarso. The self-efficacy was measured by the chronic kidney disease (CKD) self-efficacy instrument: development and psychometric evaluation. The analysis technique in this study was sample paired t test and Mann Whitney test.
Result: The results of this study indicate that most of the respondents are female (65%), have an average age of 51 years, and have the last elementary school education as much as 68%. The results of the sample paired t test in the control group were (0.40), the intervention group (0.002). Then the results of the Mann Whitney test on the efficacy value after 4 weeks of intervention showed a sig. 0.000.
Conclusion: This can be done with the interdisciplinary involvement of care and psychological teams. It is recommended that spiritual therapy be included in the treatment program by health professionals, included in teaching programs, and used on a personal level for nurses and hemodialysis patients.
References
Besral GW. Efek Penyakit Kronis terhadap Gangguan Mental Emosional. 2007;309–16.
Sporinova B, Manns B, Tonelli M, Hemmelgarn B, MacMaster F, Mitchell N, et al. Association of Mental Health Disorders With Health Care Utilization and Costs Among Adults With Chronic Disease. JAMA Netw Open [Internet]. 2019 Aug 23;2(8) :e199910. Available from: https:// jamanetwork.com/journals/jamanetworkopen/fullarticle/2748662
Wulandari, N., Bahar H, Ismail CS. Gambaran kualitas hidup pada penderita kanker payudara di Rumah Sakit Umum Bahteramas Provinsi Sulawesi Tenggara tahun 2017. Haluoleo University; 2017.
Fauzan S, Aji Martadi K, Fradianto I, Ali Maulana M, Herman. Multivariate Analysis of Factors Associated with Hemoglobin Levels among CKD Patients undergoing Hemodialysis. Poltekita J Ilmu Kesehat [Internet]. 2023;16(4):443–52. Available from: https://doi.org/10.33860/jik.v16i4.1545
Pradita IGP, Kusuma H. Pengalaman Hidup Pasien Penyakit Ginjal Kronik Stadium V Yang Menjalani Peritoneal Dialysis. Diponegoro University; 2017.
Bierzynska A, McCarthy HJ, Soderquest K, Sen ES, Colby E, Ding WY, et al. Genomic and clinical profiling of a national nephrotic syndrome cohort advocates a precision medicine approach to disease management. Kidney Int [Internet]. 2017 Apr;91(4):937–47. Available from: https://linkinghub.elsevier.com/retrieve/pii/S0085253816306123
Yulanda NA, Herman H. PENGARUH COACHING: SELF HEALING TERHADAP TINGKAT STRES DAN KADAR KORTISOL PADA PASIEN GAGAL GINJAL KRONIS DENGAN HEMODIALISIS. J Kesehat Kusuma Husada [Internet]. 2020 Jul 16;218–26. Available from: http://jurnal.ukh. ac.id/index.php/JK/article/view/450
Baradero, Dayrit, Siswadi. Seri Asuhan Keperawatan Klien Gangguan Ginjal. Jakarta: EGC; 2009.
Nelson RG, Grams ME, Ballew SH, Sang Y, Azizi F, Chadban SJ, et al. Development of Risk Prediction Equations for Incident Chronic Kidney Disease. JAMA [Internet]. 2019 Dec 3;322(21):2104. Available from: https://jamanetwork.com/ journals/jama/fullarticle/2755299
Isro'in L, Rosjidi CH. Prevalensi Faktor Risiko Gagal Ginjal Kronik [Internet]. Edisi Pert. Ponorogo: Gosyen Publishing; 2014. Available from: http://eprints.umpo.ac.id/ 2521/1/PREVALENSI FAKTOR RISIKO.pdf
Paramita Ayu N, Suega K, Raka Widiana G. Hubungan antara Beberapa Parameter Anemia dan Laju Filtrasi Glomerolus Pada Penyakit Ginjal Kronik Pradialisis. J Intern Med. 2012;11(3).
Smeltzer S. Keperawatan Medikal Bedah. Jakarta: EGC; 2015.
Arifa SI, Azam M, Semarang UN, Rind GML. Factors Associated with Chronic Kidney Disease Incidence among Patients with Hypertension in Indonesia. J MKMI. 2018;13(4):319–28.
Sutrisno S, Widayati CN, Radate R. HUBUNGAN TINGKAT PENDIDIKAN DAN SIKAP TERHADAP PERILAKU PENGENDALIAN HIPERTENSI PADA LANSIA DI DESA JONO KECAMATAN TAWANGHARJO KABUPATEN GROBOGAN. Shine Cahaya Dunia Ners [Internet]. 2018 Nov 20;3(2). Available from: http://ejournal. annurpurwodadi.ac.id/index.php/TSCNers/article/view/121
Rassool GH. The crescent and Islam: healing, nursing and the spiritual dimension. Some considerations towards an understanding of the Islamic perspectives on caring. J Adv Nurs [Internet]. 2000 Dec;32(6):1476–84. Available from: http://doi.wiley.com/10.1046/j.1365-2648.2000.01614.x
Sulistyaningsih D. Efektivitas Training Efikasi Diri Pada Pasien Penyakit Ginjal Kronik Dalam Meningkatkan Kepatuhan Terhadap Intake Cairan. Maj Ilm Sultan Agung. 2022;50 (128):11–25.
Venizelia D, Andhini D, Purwanto S. Hubungan Efikasi Diri dengan Mekanisme Koping Pasien Gagal Ginjal Kronis yang Menjalani Hemodialisis. Semin Nas Keperawatan "Pemenuhan Kebutuhan Dasar dalam Perawatan Paliat pada Era Norm Baru" Tahun 2020 [Internet]. 2020;04:20–4. Available from: http://www. conference.unsri.ac.id/index.php/SNK/article/view/1726
Darvishi A, Otaghi M, Mami S. The Effectiveness of Spiritual Therapy on Spiritual Well-Being, Self-Esteem and Self-Efficacy in Patients on Hemodialysis. J Relig Health [Internet]. 2020 Feb 23;59(1):277–88. Available from: http://link. springer.com/10.1007/s10943-018-00750-1
Rahmanian M, Hojat M, Jahromi M, Nabiolahi A. The relationship between spiritual intelligence with self-efficacy in adolescents suffering type 1 diabetes. J Educ Health Promot [Internet]. 2018;7(1):100. Available from: http://www.jehp.net/text.asp? 2018/7/1/100/238362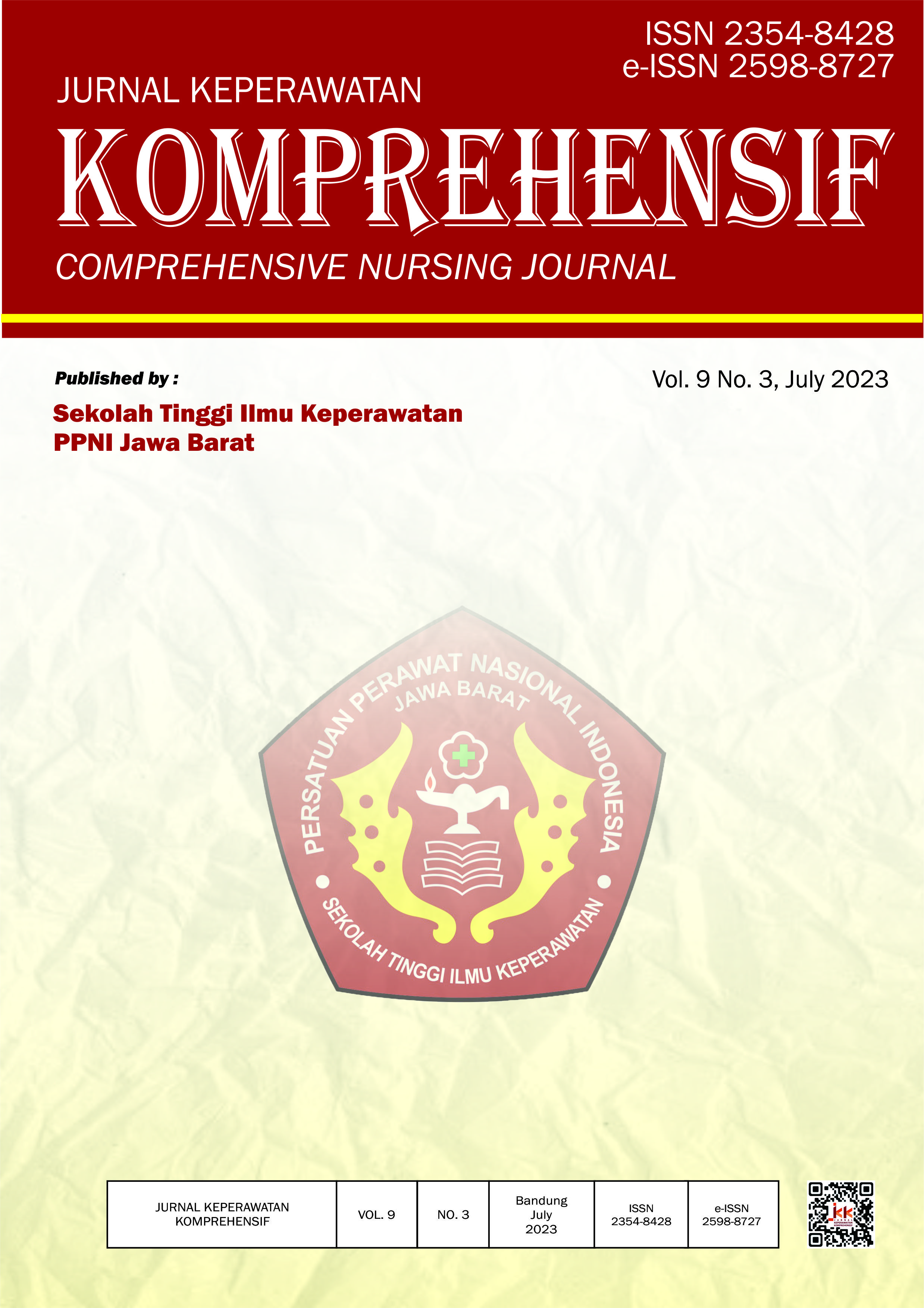 Downloads
How to Cite
Fauzan, S. ., Khatan, M. I. ., Mita, M. ., Alfikrie, F. ., Herdaningsih, S. ., & Herman, H. . (2023). Islamic Self-Healing on Increasing Patient Self-Efficacy. Jurnal Keperawatan Komprehensif (Comprehensive Nursing Journal), 9(3). https://doi.org/10.33755/jkk.v9i3.456
License
This work is licensed under a Creative Commons Attribution 4.0 International License.